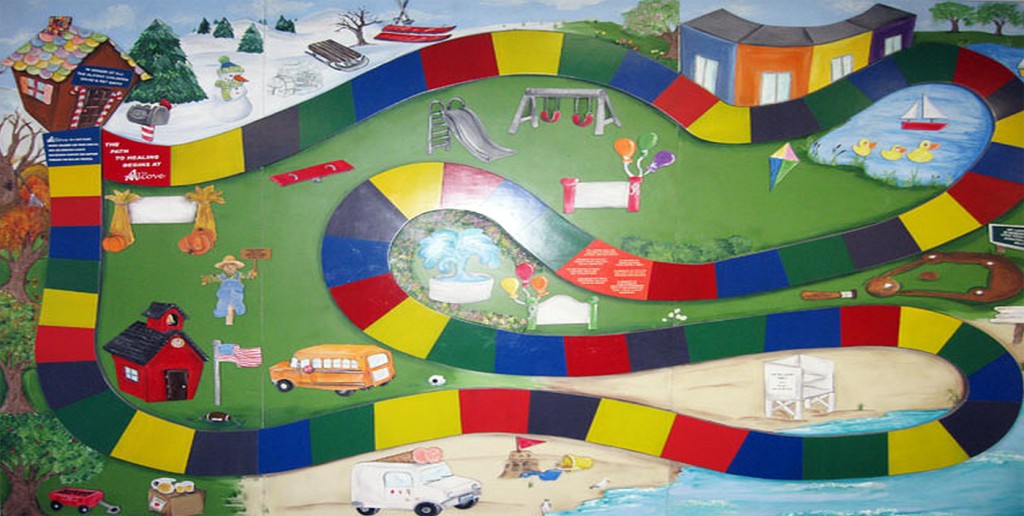 Memories are important. They make us who we are, and give us a sense of ourselves in the world. For grieving children and teens, memories are what they have left of the special person they have lost.
The Alcove's "Memory Lane" is an 7′ by 11′ artistic representation of a whimsical path through four seasons in a child's world, with a playground, ballpark, beach and other happy places. It's a world full of animals, nature, ice cream, gingerbread houses, scarecrows and snowmen. Memory Lane, a visual example of childhood hopes and dreams, illustrates how we strive to help grieving children and teens return to a hopeful frame of mind.
The Memory Lane Donor Wall is a beautiful piece of art that will grace our bereavement center for many years. The Alcove Memory Lane was created by artist Lisa Zachs and Schoppy's Spencer Hamilton.
Join the rest of our many donors, by purchasing a piece to personalize with your name or the name of someone special to you.
Pricing:
A three line statement (20 characters per line) on one of the colored tiles of Memory Lane's path costs $125. Here are some examples:
In Memory of
a Wonderful Father,
Jim Johnson