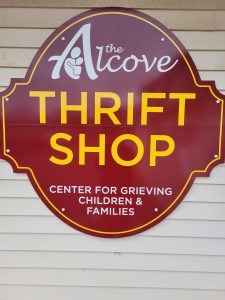 Store Hours:Tuesday through Saturday, 11:00 AM until 4:00 PM ( Donations Accepted during store hours)
Closed Sundays and Mondays
Manned almost exclusively by volunteers and serving the residents of Atlantic county The Alcove Thrift Shop has raised over $400k on behalf of The Alcove Center for Grieving Children & Families.
Proceeds from items sold at this very busy thrift shop benefit the services and programs at The Alcove. You'll find a wide array of women's, men's, and children's clothing, shoes and accessories, along with a variety of household items, knick­knacks, and linens . . . all at a great price. In addition to supporting The Alcove, the Shop offers community residents a great way to purchase quality items at reasonable prices. We invite you to visit often.
Donations We DO NOT Accept
Large Appliances ­ washers, fryers, freezers, refrigerators, ovens, dishwashers, etc.
Box springs or mattresses
Computers, monitors, keyboards, software
Fax machines and telephones
Cameras
Lawn and Garden equipment ­ Lawn mowers, leaf blowers, weed cutters
Barbecue Grills
Building Materials ­ windows, doors, kitchen or bathroom cabinets
Tires ­ or other auto related equipment
Infant Equipment older than 5 years old
Items with storage odors:­ cigarette smoke, moth balls, musty basements
Please consider what you are bringing when cleaning up after your yard/garage sale. The quality and condition of the items you are donating really do matter. If you wouldn't buy them, chances are our customers won't either. Being selective about your donations will help us save on disposal costs.
Receipts
We always give receipts if requested, for those who itemize their Income Tax Returns. Receipts reflect the nature of your donation, but do not reflect any cash value. That is to be determined by your accountant in accord with IRS regulations.
If you would like to inquire about volunteering at the Shop, or would like to donate clean, salable items, please call 609-­484-­1133 ext. 102 for more information. Volunteers are always welcomed, with morning or afternoon schedules available.