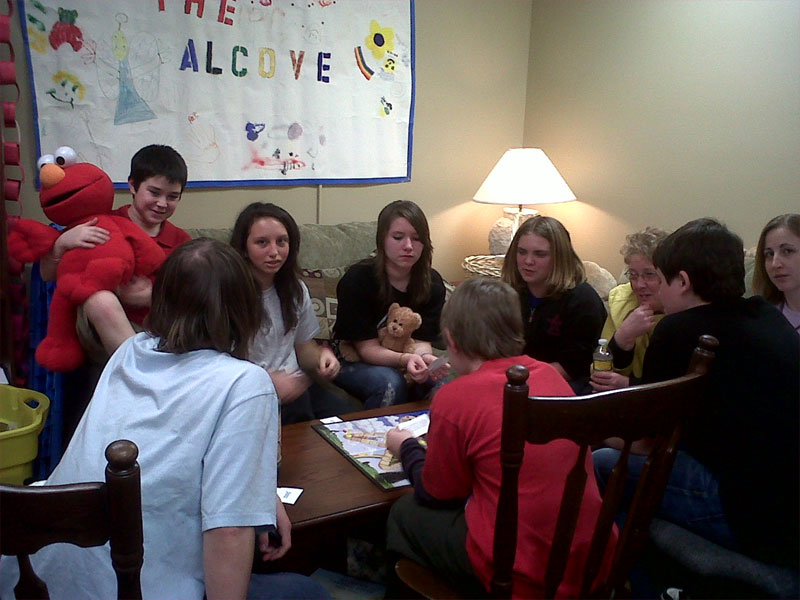 Family Bereavement Groups
The Alcove offers activity-based peer support groups for children, teens and adult caregivers who are grieving the death of a loved one.  Children receive care and support in a safe environment where they can express themselves through play, art, storytelling and music.
Peer support groups foster open, honest discussion of the feelings of sadness, fear, anger and confusion that accompany a loss.
Groups meet every other week throughout the year, with sessions lasting one and a half hours.
An evening begins with sharing a light meal together and then break out into age specific groups for activities and group discussions.
We offer five age groups:
Ages 3-6
Ages 7-10
Ages 11-14
Ages 15-18
Adult Groups
Adult Grief Groups
Support Groups for Adults 19 years of age & older and facilitated by trained volunteers.
Anticipatory Grief
Home visits provide activity based support to children ages 3 – 18 who have an adult caregiver that has been diagnosed with a life threatening illness.
School Outreach Program
Peer support groups conducted in schools in high risk areas for children unable to attend group at our Northfield Center.  Fun, age-appropriate activities provide children/teens with a safe environment in which to explore the many thoughts and feelings associated with grief. The groups are facilitated by an MSW Social Worker and provides grief support and education.  This group meets for 6-8 weeks.
Individual and Family Therapy
Individual and family therapy for grief and loss issues.
Therapy is specific to grief and loss issues.